One Legal Discovery Platform For Everything You Need.
Casepoint's Legal Hold and eDiscovery solutions help leading law firms, corporations, and government agencies manage complex litigation, investigations, data privacy, and compliance needs. Deliver better results faster with an all-in-one cloud solution.
Sign up to See Us
at ILTACON!
Stop by our booth to see how you can leverage the legal technology features you need to efficiently and effectively manage your data discovery needs. We'll show you how to deliver the best legal outcomes and business results quicker with the industry's most end-to-end cloud solution for Legal Hold and eDiscovery.

Feel free to drop by our booth for a demonstration at any time!
DON'T MISS THIS SESSION AT ILTACON!
AI Can See Clearly Now:
Innovative Integration of Images Into Your Review
Photos, drawings, and other images historically have been viewed as a challenge for efficient searching, organization, and review. And often valuable resources and time are spent on simply filtering out personal photos, signature blocks and logos from substantive, business-related images. Now images now can be processed by AI-driven technology, their contents tagged, and the tags searched. Learn how you can turn the droves of image files into the gold of meaningful content.
Tuesday, August 23, 2022
2:30 - 3:30 PM EST

George Socha

Josh Bohls

David Carns

Ashley Dubin
Upgrade Your Data Discovery With Award-Winning Technology
eDiscovery
Discover the most relevant data in less time within one unified and secure legal discovery platform, powered by artificial intelligence and supported by legal experts. Confidently manage, collect, process, and review data during eDiscovery and identify crucial data with our award-winning technology.
Legal Hold
Eliminate manual processes, save time, and improve custodian compliance in order to achieve a defensible workflow. Easily configure custodian management to automate user notifications with customizable templates. Track responses in one secure solution to reduce time, costs, and risk related to legal holds.
Case Summary
Casepoint has a matter mapping system that allows users to put data collection and evidence-building functionality in the same workspace. Easily import and export documents directly to and from the Casepoint platform, to ease collection burdens and allow users to correlate data imported from other tools and documents.
AI & Advanced Analytics
Leverage cutting-edge AI and advanced analytics tools built into the platform at no additional cost. Cull data faster, locate crucial documents, identify and tag for relevance, non-relevance, privilege, and more. Features include: Active Learning based TAR, Clustering, Email threading, Communication Graphing, Entity recognition, Data story builders, Visual analytics, and more.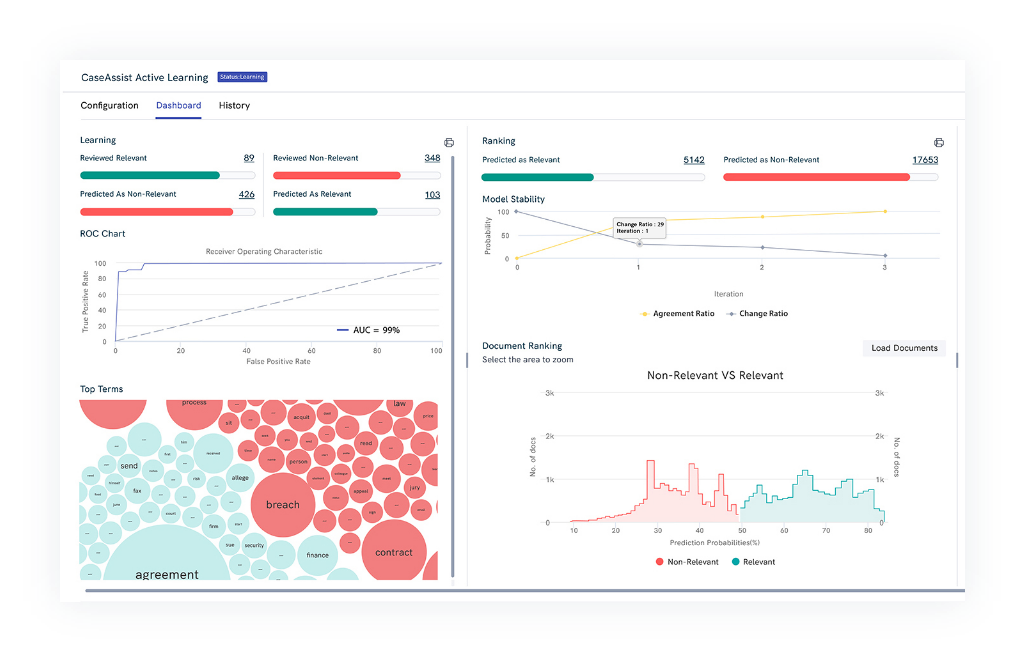 Law Firms
Grow your practice by driving efficiency and increasing profitability. Innovative technology routinely saves money for firms and their clients. Find out how you can recover costs while providing these benefits.
Corporations
Do more with less by leveraging technology and automation to do work for you. Consolidation and optimization of your tech stack can help mitigate pain points. See how you can deliver more value for your organization with end-to-end control of your data and powerful AI-driven technology.
Government Agencies
Easily manage complex eDiscovery, investigation, FOIA, and regulatory needs with Casepoint's FedRAMP Authorized platform. Quickly collect, process, and find crucial data with easy-to-use cloud-based technology and reliable support.












See What Our Clients Say About Us
Casepoint has provided a simplified but feature rich solution that has streamlined our litigation support procedures and translated into significant cost savings.
Casepoint's ability to work with us and discovery counsel on productions and the timeliness of the productions have been exceptional to any other products that we have tried
The choice to switch to Casepoint from Relativity was clear to us. Casepoint's functionality, ease-of-use, and focus on software innovation gives our attorneys and clients the best eDiscovery technology to support their matters.
Casepoint has beed more than willing to adapt to our model of discovery.
When we do encounter a unique issue in one of our cases, Casepoint always finds a creative resolution to assist us. We also find the platform one of the most intuitive and easy to use.
For almost a decade, Casepoint's technical and project management teams have been helping us find creative solutions to unique and complex eDiscovery data issues.
We selected Casepoint because their technology gives our clients and our team an extra edge – it is a powerful eDiscovery solution that allows us to work smarter, faster, and more cost-effectively, providing a direct benefit to our clients.
We benefit from [Casepoint's] guidance on best practices, including billing and cost recapture for technology support and workflow efficiencies, so we can provide the most efficient and cost-effective legal representation for our clients.
Casepoint is far more intuitive, user-friendly, and has an inviting interface. In a side by side with other products, Casepoint is the clear winner.
We chose Casepoint for the included platform features, superior pricing, intuitive interface, and the outstanding quality of the entire Casepoint staff that support the platform.